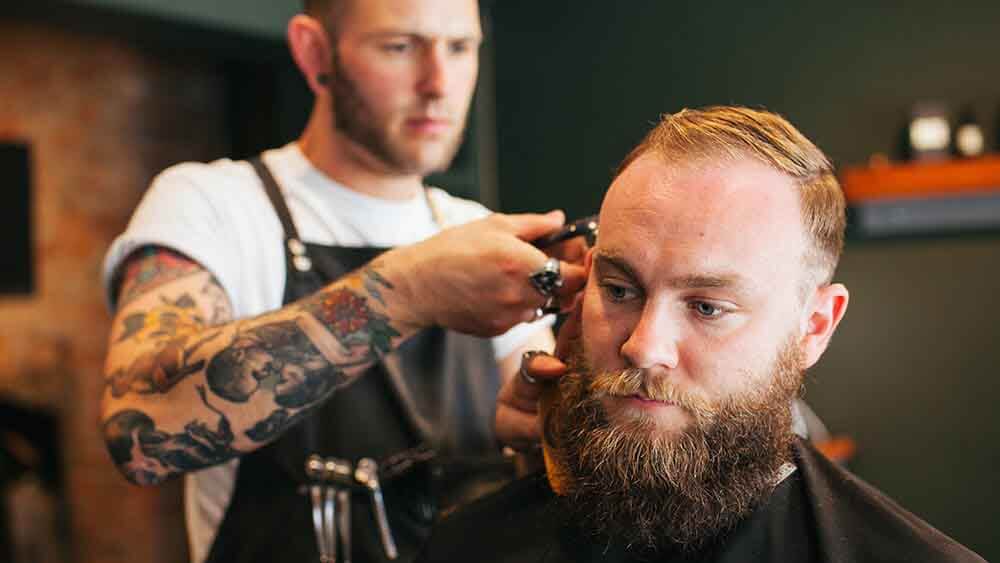 THE TRUTH ABOUT
BEARD GROWTH
It's all about your grooming routine
Here's the secret sauce: there's no magical pill for a glorious beard. It's a symphony of genetics, TLC, the right grooming routine, and premium products. That's where we step in – giving you high quality grooming goods that are simple & effective – your passport to a softer, shinier, and healthier beard journey without all the fuss!
Scrap using beard & skin products with sickly harmful chemicals that stunt beard growth.
USE HIGH QUALITY PRODUCTS AND YOUR BEARD WILL GROW FASTER, SOFTER, AND HEALTHIER.
OUR GROOMING TIPS
USE ONE – OR ALL!
A healthy shiny soft beard should not be a hassle! Using our simple beard care routine - you'll never be prouder of your beard! Create your all in one beard care solution.
BEARD SHAMPOO
Lather Up with a Beard Shampoo: Start your day right with our Beard Shampoo bar. Wet your mane, work up a rich lather, and let the magic happen. Not only does it cleanse your beard, head, and body, but it also plays the role of a beard whisperer, soothing dandruff, taming itchiness, and adding a dazzling shine. Talk about a multitasking champ!
Simply wet beard, work bar through using fingers to create a rich lather and run through hair thoroughly.

Rinse well and repeat if desired. Can be used on beard, head and body for a simple cleansing & grooming routine.

Cleanses, softens, and encourages healthy beard growth. Fights dandruff, beard itch, and dry flaky skin. Adds shine!
BEARD MASSAGER / SHAMPOO BRUSH
Elevate your routine with the Beard Massager: Transform your shower into a spa session with our Beard Massager Shampoo Brush – your partner in crime. Pair it with the Beard Shampoo to generate a turbocharged lather, indulge in a professional beard massage, and wave farewell to dry skin and dandruff. Whether in the shower or on dry land, this champion stimulates hair growth and ensures your beard remains as fluffy as a cloud.For optimal fullness use when your beard is dry as well - it massages hair follicles, spreads oils & fluffs beard.
DETANGLER CONDITIONER BAR
Show your beard some serious love with our Detangler Conditioner Bar. Moisturize, detangle, and nurture your beard, all in one go. This is the one essential you gotta have – you know, the one it totally deserves. Smooth, silky, and deeply conditioned – you'll be tempted to stroke it all day! AND you don't even need a beard oil after this stuff!
If there's one beard grooming product in your routine - it should be a deep conditioner. Condition, condition, condition!

Great for daily use on all hair types. Moisten bar, work through beard, detangle, and rinse!

Detangles, smoothes & deeply conditions beard. Moisturizes your skin too!

Follow with a beard massager to detangle beard, relieve beard dandruff or dry skin, and encourage a softer healthy lush full beard.
Beard Conditioner Balm
Sealing the Deal with a Beard Balm: Every masterpiece demands its final touch, and your beard is no exception. Enter our Beard Conditioner Balm – your ultimate grooming sidekick. It leaves your beard sleekly styled and boasts a woodsy scent that's like a stroll through the woods. Daily use keeps your beard and skin itch-free and moisturized. It's like a hug for your face.
Great for daily use on all hair types. Work through beard & skin for anti itch & deep moisture.

Glosses, smoothes & deeply conditions beard. Moisturizes your skin too!

Follow with a beard massager to detangle beard, relieve beard dandruff or dry skin, and encourage a softer healthy lush full beard.
Boar Bristle Beard Brush
Be a Brush Boss: Ah, the pièce de résistance – our Boar Bristle Beard Brush. Your secret weapon for beard greatness. It's not just a brush; it's a beard symphony conductor. Spread those natural oils, shine bright like a diamond, and stimulate growth with each stroke. Quality and effectiveness rolled into one, just like your favorite action hero.
Regularly brushing your beard and head is the best thing you can do for your hair and skin! Wanna give your beard natural shine? Boar bristle brushes spread the oils produced naturally by your beard which aside from giving that shinny and soft look and feel, promotes hair growth! Makes your beard shiny and helps promote full and healthy beard growth.
Use high-quality boar bristle, why? The boar bristle is the most effective fiber to stimulate the hair follicles. It evenly distributes the natural oils that occur on the skin and beard as well as being the very best exfoliant. When you shave, you're exfoliating, every day keeping your skin healthy. When you have a beard, you cannot neglect your skin and a boar bristle brush is the highest quality and most effective brush you can buy.
Beard Oil Face Serum
The Elixir of Beard Gods: Think of our Beard Oil Face Serum as the wizard's potion for your beard. It's a game-changer, softening your beard, fighting itchiness, and even nurturing your skin. Plus, it's like a skin-refreshing treat after a close shave. A few drops go a long way, and you'll be amazed by its transformative powers. A multi-use product that's not just great for your beard but also as a skin refreshing treatment after shaving. Great for sensitive skin.
Unlike other beard oils that are thick, sticky and may cause clogged pores, our Beard Oil Serum is refined from olives, the squalene in this incredible serum is an oil with a molecular structure close to our skin's own natural lipids, evening out your complexion with no residue. Boosts new skin cell generation and moisturizes skin.
Apply a few drops and spread evenly and upwords to damp beard for optimum results, can be applied to dry hair as well.
OUR BEARD CARE COLLECTION
In an industry with thousands of look-alike choices, Professor Fuzzworthy simplifies with the very best natural products that emphasize the highest quality with the least fuss. Versatile & hassle-free, our premium grooming products are designed for multiple uses. That's why we focus on a carefully curated menu of essential products for all your beard care, skin care & hair grooming needs.