OUR PHILOSOPHY IS TO HARVEST, CREATE AND PROVIDE PURELY NATURAL PRODUCTS, WITHOUT SYNTHETIC CHEMICALS, ANIMAL TESTED INGREDIENTS OR PRODUCTS,
PLASTIC PACKAGING OR HYPE…
100% NATURAL ECO-FRIENDLY & ZERO WASTE
HANDMADE WITH CARE SINCE 1993.
how we care for you and the environment
Our products, and importantly all ingredients, are virtually all edible or foods, tested only on humans (not animals) and have been since people began using these natural ingredients to care for their bodies.We support wherever possible local producers, small raw material supply businesses. We do not use synthetics. We use no petrochemicals, harsh chemical scents or chemical preservatives, so that you can be absolutely sure that no animal has suffered to produce your product. Herbs and honey have been used by humans for centuries without the harmful side effects increasingly evident in today's chemical-laden world.

We've calculated we have saved over 1 million plus pieces of plastic packaging from landfill since 1993! Stop paying for water in your products and go plastic free & zero waste!
Average shampoo conditioner & body wash bottles can contain 80% water and 20% ingredients. That means you're paying for mostly waster and plastic bottles! Professor Fuzzworthy & Beauty and the Bees beard and hair solid shampoo bars and conditioner bars are concentrated, packed full of premium 100% natural and organic ingredients, without all that added water and harsh chemicals!
One shampoo bar is equal to 3 liquid shampoo bottles and can last from 3-8 months. Our solid conditioner bars can last up to 200 washes. Now that's what we call sustainable, high quality products that really work!
---
EVERYTHING IS MADE FROM SCRATCH – SOURCING ONLY PREMIUM ORGANIC & NATURAL INGREDIENTS THAT WORK WITH THE BODY NATURALLY
Long before 'organic' was a fashionable & meaningless buzz word – we handmade our products from scratch with only gourmet food ingredients - so safe you can eat them. No pre-made "bases", melts or pour soaps bought in! AND NO synthetic chemicals harsh on hair and skin that stunt beard & hair growth.
---
We proudly produce the cardboard that is used for packing your orders in-house with our own shredder (we call him Hal 9000) from cardboard generated by ourselves and other small businesses: repurposing waste that would have otherwise gone to landfill.
Yay for the environment! We ask you to add to your own recycling bin or repurpose again for gift wrap etc…
---
We proudly produce the cardboard that is used for packing your orders in-house with our own shredder (we call him Hal 9000) from cardboard generated by ourselves and other small businesses: repurposing waste that would have otherwise gone to landfill.
Yay for the environment! We ask you to add to your own recycling bin or repurpose again for gift wrap etc…
And yes, all other packing materials are biodegradable including cornstarch spoons (included with creams) and packing beads/bubbles are recycled ( again from other small businesses so they get a second use) and made only from edible cornstarch or wheat: no polystyrene!
Feed them to your chickens if you have them!
PLEASE NOTE: we have been packing mail orders since 1993 : yes we have tried every combination of packing materials known to man ( no: shredded paper does not work: it settles instantly when packed and offers no protection to glass at all resulting in frequent breakages) so we know what works to get items to you safely.
Where bags are required ( for free samples of soaps, etc in mail orders) we use biodegradable cellophane bags, and only kraft recycled paper bags in store.
We use only recycled/earth friendly shipping materials to pack mail orders aside from the plastic bags that are supplied by Australia Post/Courier businesses and we have no choice in this.
Packing boxes are all recycled Kraft card.
The spoons/spatulas  provided with our moisture creams are not plastic but also biodegradeable made of cornstarch.
We use only recyclable clear or brown glass where necessary to prevent light damage to the vitamin-rich contents.
We only use earth friendly packaging – with plastics such as caps, containers, packing tape used only as a very last resort if we cannot obtain a glass, paper or tin alternative container.
Recent research has shown that the use of phthalates (a chemical softening agent) implicated as an endocrine system disruptor in the manufacture of plastics can leach into oil based contents. Plastic is also the number one environmental pollution curse. We do not use plastic containers except for bottle caps and inserts, where we have no choice. Packaging is in amber glass (not plastic) and we use recycled paper materials/boxes.
Where possible we use only recycled paper pulp packaging/printed matter (this is extremely difficult in Australia with limited supply sources available here).
All our products are handmade in a chemical and detergent -free environment.
As a small, environmentally sensitive, local producer we do not create megafactory waste. Indeed, we recycle wherever possible. Our original store in Bellerive was built entirely from re-cycled materials from a local Resource and Waste Management Co-operative.
All Professor Fuzzworthy's products are completely handmade with
100% natural premium, biodegradable ingredients,
so safe you could actually eat them!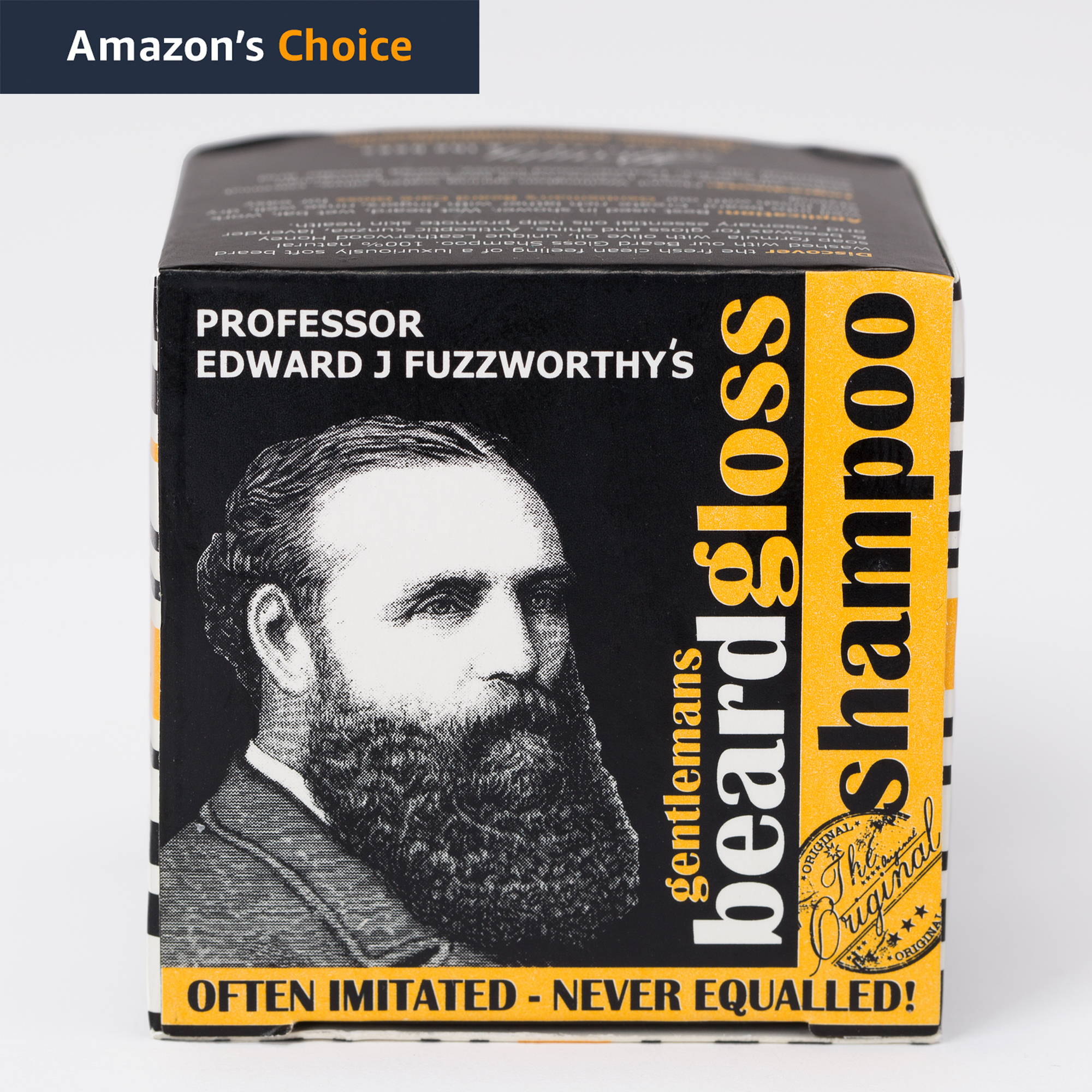 YES! 100% Natural Australian Ingredients - specifically selected to fortify your beard, hair & skin

YES! Certified Organic & Biodynamic herbs, plant & nut oils

YES! Raw Leatherwood Honey & Beeswax locally sourced & ethically harvested

YES! Only premium quality ingredients from the cleanest place on earth, Tasmania Australia

YES! Formulated to work with body's natural chemistry

YES! So safe you can eat them...
WHAT'S NOT IN OUR PRODUCTS?
NO sulfates

NO parabens

NO detergents

NO harsh chemicals

NO palm oil

NO animal cruelty

NO irritating synthetics

NO harsh chemical scents

NO chemical preservatives

NO drying, skin aging petrochemicals

NO ingredient that is known to be harmful to humans or the environment

NO polluting plastics

NO false claims or promises

NO lies…
Explore our curated menu of essential products for all your
beard care & hair grooming needs...
Best beard shampoo I've used
I just made the switch from bottled beard shampoo (Grave Before Shave) to Professor Fuzzworthy bar beard shampoo and I immediately notice a difference. My beard is softer, cleaner, and much easier to groom. It was worth every penny and I recommend it to any bearded fellow.
– Joshua Wherley
Feel like Zeus
Well I just got out of the shower after using my shampoo for the first time. First half was like the shampoo commercial with the woman moaning in pleasure while lathering her hair and the second half I felt like Zeus himself blowing a godly beard load down upon all the mere mortals below with their primitive beard grooming knowledge. Highly recommend!
– Richard V
Support BLM! (beard lather magnificence)
I've tried quite a few shampoos and haven't found a decent one yet - until this gem. Totally out-lathers all of them and I much prefer the application compared to pump bottles. Dynamite product, just wish it were a bigger bar. Works as promised! You've gained my loyalty.
– Wolfgang Keller