Professor Fuzzworthy's NEW Beard Shampoo Bar & Conditioner Sampler Kit
Don't know which Professor Fuzzworthy beard shampoo bar you like best? No worries, mate! This sample pack lets you get your feet (or beard) wet while trying out sample bars of our finest beard shampoos. These long-lasting samples are all packed with 100% natural beard and hair nourishing oils like Tasmanian olive, Kunzea, and lavender, as well as powerful ingredients like Leatherwood honey, apple cider vinegar, craft beer, hops, and bamboo charcoal to cleanse and nourish your beard without drying. Perfect for travel, and a great gift.
Includes 3 Beard Shampoo Bars + 1 Conditioner Sampler Set.
On packaging tab: original = brown | acv = green rhassoul = red | beer conditioner = yellow
---
ORIGINAL BEARD SHAMPOO BAR SAMPLE
Use on hair, beard & body.
Voted #1 Best Beard Shampoo Bar - Highest rated, best price and highest quality!
A full sized 100% natural shampoo bar rich in organic conditioning olive & castor oil, Leatherwood beeswax and honey gently and thoroughly cleanses your beard - for a healthy, fluffy, and shiny beard! Professor Fuzzworthy's beard shampoo is full of antiseptic essential oils such as Tasmania's Kunzea and Lavender to keep skin healthy too!
NEW RHASSOUL BEARD SHAMPOO BAR SAMPLE
Use on hair, body, and beard.
Hey, curly locks, it's time to tame your hair and simplify your shower routine with our new all natural beard shampoo bar, a 3-in-1 product that works on face, beard, and especially out-of-control hair! The key to taming that mop is Rhassoul Clay, a Tasmanian treasure with unique properties that deeply condition thick, dry, frizzy, or curly hair, making it easier to manage. Like all Professor Fuzzworthy products, our new bar is packed with Raw Leatherwood Honey and Beeswax, which work with the clay to soothe and nourish your hair, scalp, and skin. Incredibly gentle and 100% free of synthetic fragrances or chemicals.
ACV BEARD SHAMPOO BAR SAMPLE
Use on hair, body, and beard.
With a fresh crisp scent - A full sized 100% natural beard shampoo bar rich in conditioning olive & castor oil, Leatherwood beeswax and honey found only in Australian forests that gently and thoroughly cleanses your beard for a healthy, fluffy, and shiny beard! Professor Fuzzworthy's is full of antiseptic essential oils such as Tasmania's Kunzea and Lavender to keep skin healthy and our praised ingredient Australian Apple Cider Vinegar for anti-itch and to fight dandruff & dry flaky skin & add shine!
BEARD CONDITIONER DETANGLER SAMPLE
Use on hair & beard.
With Australian hop infused certified organic raw coconut oil, and beer for gloss and shine. A super concentrated 100% natural and long lasting beard conditioner bar - not only detangles and smooths your beard but deeply conditions.
Great for daily use on all beard / hair types with super skin nourishing & beard conditioning ingredients. Moisturizing, detangling, rinses out completely, leaving beard very soft and glossy. Travel Friendly.
All Professor Fuzzworthy Beard Care Grooming, Hair Care & Skin Care products are handmade from 100% natural & organic ingredients. Sulfate, paraben, palm oil, fragrance, plastic & cruelty free – zero waste since 1993!

---
See individual product ingredients.
USA SHIPPING
We are fully committed to shipping out orders as fast as possible within 1-3 days by 2:00 PM EST. Shipping time is usually 1-3 days, but varies based on location & postal services. Shipping timeframes are not guaranteed and provide a rough estimate for when you will receive your products. See our shipping policy.
USA Shipping Rates: flat rate $6 up to $69.99
Free Priority Mail Shipping on USA orders over $70+
Due to the overwhelm of postal services, there may be occasional delays within the postal service networks. More info
USA CUT OFF TIMES
We recommend placing your orders well in advance as postal services world wide are overwhelmed and there may be occasional delays. 
To ensure that you receive your package by December 24th, please place your order by these dates before the 3 PM EST cut off:
UNITED STATES (excluding Hawaii & Alaska) 
USPS Standard Shipping - December 11th, before 2 PM EST 
USPS Priority Mail Shipping - December 18th, before 2 PM EST 
COUPONS & SALES
Only 1 coupon code may be used at one time per purchase and are time restricted. No refunds will be made in regard to misuse of coupons or missed sales.
INTERNATIONAL SHIPPING
Currently shipping to CANADA ( USPS & UPS), UK & Europe via UPS, rates vary by destination. 
Canada: flat rate $25 or UPS calculated rates
All customs and taxes are the responsibility of the buyer. Due to the overwhelm in postal services worldwide and high shipping costs, we cannot replace lost items or issue refunds for international orders. All carrier related delays or issues must be taken up directly with the carrier. You can contact UPS with your tracking number here: https://www.ups.com/us/en/help-center/claims-support.page
For questions regarding your order and shipping please contact info@pfuzzworthy.com with your Order # in the subject line.
RETURNS
Please see our Return Policy
Regular user
I have used Professor Fuzzworthy products for years and have found them excellent additions to my beard care needs. These are some of the best products I have found for this purpose.

1 beard shampoo =
3 liquid shampoo bottles!
Long lasting & high value! Eco-friendly & Travel friendly.
Our concentrated solid beard wash contains NO excess water, sulfates, parabans, or chemical fillers – just pure premium ingredients for healthy faster fuller beard growth.

All products backed by our
100% Happiness Guarantee
Buy it, try it, don't love it? Get your money back! As a family business we have been hand making our premium products since 1993 and we are sure you will love them, but if you don't? You'll get your money back, no questions asked.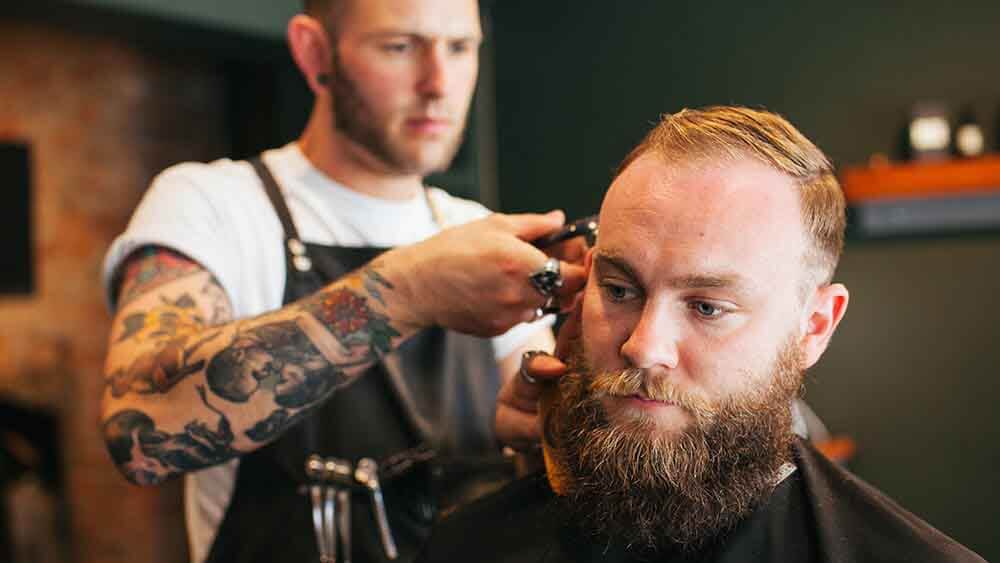 Since 1993
Professor Fuzzworthy
FOR A SIMPLE, EFFECTIVE AND NATURAL GROOMING ROUTINE Built on a foundation of chemical-free ingredients, zero waste, cruelty free, and premium ingredients, our 100% natural beard, hair and skin care products are selected to forify your hair & skin, naturally – formulated without parabens, sulfates, palm oil, preservatives, synthetic chemicals & fragrances, or added water!
EXPLORE